Cook and taste at home the sea products cooked by our Chefs!
Our Fish shop proposes the same extra-fresh seafood and fish that you savour at the restaurant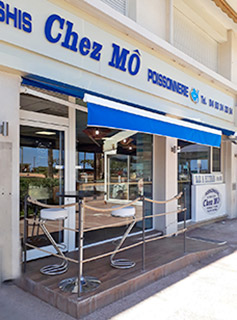 In December 2015, we have taken up the challenge to open a fish shop at the entry of the restaurant. Our aim: providing you the same quality products that at cooked at the restaurant for your own table. Since then, the fish shop has become a real part of our activity, and open daily from 12 to 8.00 pm.
In 12 months, we serve more than 100 000 oysters on the whole!
During last summer 2017, restaurant and fish shop have sold and served 50 kg cod / week and 200 kg mussels!
It is this large activity that enables us to guarantee top quality and freshness, at the best price for quality
You'll find at "Chez Mô " fish shop our famous seafood platters to take away (ready for degustation, shells opened), our extra fresh oysters
(direct from the producer), shellfish and urchins according to the season, lobsters from our tank, shells … (See the "Take Away" brochure).
At their best: fresh whole fish or prepared in filets (ask us for prices, weight and availability).
The same cooked by our Chefs are also proposed to take away, such as:
the local fish and green crabs soup, the octopus seafood Paella,
the Choucroute de la mer sauce champagne, our homemade Sushis,
and even some meat dishes and desserts.
Dish of the day and Wine pairing from our cave: please ask us.